Properly cleaning between the teeth involves more than brushing alone. It is important to also use dental floss, and in many cases, interdental brushes. This should be carried out at least once a day. The time of day flossing is carried out is not important and it is best to find a time when you are not in a rush and are able to clean thoroughly.
There are many types of floss on the market. Waxed floss tends to slip in between the teeth more easily than un-waxed floss and may be easier to use. Newer single filament (PTFE) flosses slide easily between teeth and are also very effective.
Flossing can be quite challenging, especially when you are learning or have not used floss before. It is important to remember that you will improve with practice. It can be helpful to stand in front of a mirror while learning to floss. Your Periodontist or Dental Hygienist will also be able to help you perfect your flossing technique.
How to Floss
To receive maximum benefits from flossing, use the following proper technique: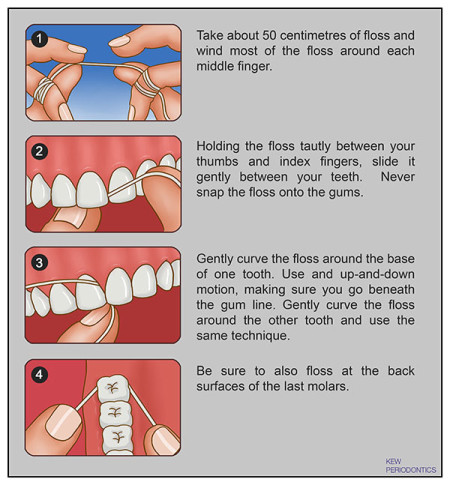 Floss on a Handle
Some patients find it quite tricky using dental floss. In these cases, it may be possible to use dental floss that is attached to a handle. This tool may also be helpful for flossing behind the back teeth, which can be difficult to reach. Your Periodontist or Dental Hygienist will advise if this is suitable for you.
Interdental Brushes
Interdental brushes are very useful for cleaning in between the teeth, especially when there are larger spaces between the teeth. This is often the case for patients with periodontal disease.
When choosing an interdental brush, it is very important that the brush fits snuggly in between the teeth to ensure that it will clean effectively. Your Periodontist or Dental Hygienist will help suggest which type and size brushes are best for you. You may have a range of different sized spaces between the teeth. If so, you may need a variety of sizes of interdental brushes.
To use the interdental brush, insert the brush from the outside (cheek side) through each of the spaces – it should fit snugly. Move the brush in a forwards and backwards motion to clean between the teeth. Be sure to wash the brush quickly under the tap after each tooth, so that you don't push the plaque you just removed into the next space. Interdental brushes can be re-used several times, however, they do need to be replaced once the brush starts to wear (i.e. bends or frays).